1 TAKE PART!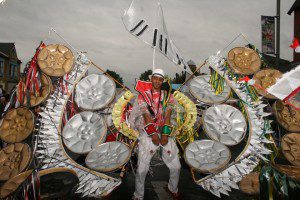 Probably the best way to REALLY experience carnival is to don a costume and take part in the parade. Often called playing mas or bacchanal – there really is nothing quite like it.
2 LET GO AND DANCE!
It's almost impossible not be drawn in by the sounds of steel pan and soca music. They're addictive. So get on bad, pallav, jump up, wuk, or wine yuh waistline – in the language of carnival they all involve 2 things – letting loose and following the rhythm! Top tip for novices of the perfect wine – knees bent, let your hips do a figure of eight, hands in the air or out to the side and you're almost there!
3 TAKE A MUSIC LESSON!
This one's on us…
Calypso is the sound of the West Indies. Created in Trinidad & Tobago with African and French influences it combines social commentary with big rhythms and soulful voices. Definitely foot tapping but the art is in the lyrics so listen carefully – nothing is out of bounds.
Steel pan – Everyone loves pan! Born in Trinidad & Tobago it is the only truly musical instrument to be invented in the 20th century and is expertly crafted from oil drums. Talk about resourceful! And versatile too; steel pan can bring something new to just about any musical genre – and it's an essential part of carnival on the road.
Soca – This is the high energy music you'll hear pumping from sound systems that accompany the Carnival Parade. It is a heady mix of calypso, electronic jazz beats, thumping bass lines, melodious horns and rhythm sections all mixed up with great harmonies.
4 TRY THE FOOD
Take your pick from a choice of global cuisine on Carnival Day but make sure you sample these signature Caribbean dishes;
Jerk Chicken and festival – it's BBQ chicken amped up by being steeped in secret blends of spiced marinades and rubs for at least 24 hours. Watch out for the hot pepper sauce – when we say hot we mean HOT! Try with the deep fried sweet cornmeal based festivals. Delish!
Curry goat with rice and peas – this Carnival staple is traditionally served across the Caribbean. More likely to be mutton in the UK, it is seasoned with flavour packed herbs and spices and scotch bonnet pepper. Comes with rice and red peas fragrant with coconut, garlic, thyme and pepper.
Sugar Cane – looks like a piece of bamboo but by the time it's stripped and expertly chopped into chunks you're good to go. Just chew, enjoy the sweet cane juice and get rid of the husk as politely as you can!
5 MAKE SOME NOISE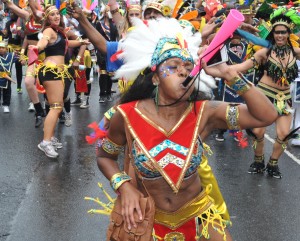 With a whistle or horn. Don't worry if you can't quite grasp the dance moves. Grab one of these essential accessories to declare your love of Carnival. Blow to the music or to show your appreciation for the costumes you're impressed by.